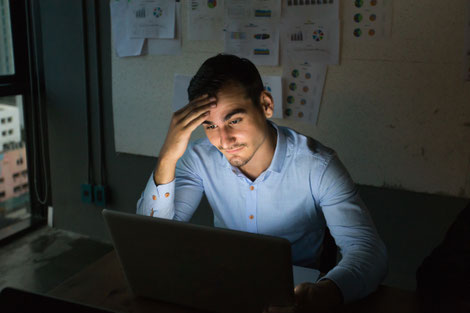 If you work the graveyard shift instead of nine-to-five, you could be at increased risk for heart attack, according to recent research.
Although the heightened risk isn't fully understood, research from the University of Western Ontario and Harvard Medical School have linked shift work—including night shifts, rotating shifts, split shifts, and other non-daytime schedules—to higher blood pressure, increased cholesterol, and diabetes.
"Further research needs to be done to get more information regarding the underlying factors contributing to this link, but there are several theories as to why it exists," says cardiologist Thomas Mulhearn IV, MD, FACC, with Cardiovascular Specialists.
Researchers said it's possible that shift workers engage in riskier behaviors, such as smoking and unhealthy eating, and might be less likely to exercise regularly; however, the risk remained elevated even when those factors were eliminated, according to researchers.
It's also possible that irregular schedules disrupt the sleep cycle, which could ultimately affect overall health.
"The body is biologically programmed to wake at sunrise and sleep at night. When that cycle is interrupted, it can create sleep and health issues," Dr. Mulhearn says.
Researchers with the University of Western Ontario found that the risk is particularly heightened in the first 10 or 15 years on the job. Compared with people who worked during the day, shift workers were 23 percent more likely to have a heart attack, they noted.
The most recent study—from Harvard Medical School—tracked 22 years of data from about 75,000 nurses nationwide and found that people who worked rotating night shifts for more than five years had an 11 percent increased risk of death from heart disease and other adverse health conditions.
Researchers also found that the risk of death from heart disease was 19 percent higher in those who worked these shifts for six to 14 years, and 23 percent higher for those who worked shifts for 15 years or more.
"Research is ongoing to help us understand more about the relationship between shift work and the risk of heart disease and other health problems, but it's clear that shift workers need to be give particular attention to their personal health and habits," Dr. Mulhearn says.
Make a Healthy Shift to These Habits
Dr. Mulhearn provided these heart disease prevention tips for shift workers to help reduce their risk factors:
Get regular health exams. Be diligent about routine healthcare, especially if you have other risk factors, such as a family history of heart disease. Visit your physician at least once a year for an annual check-up—more if needed.
Improve your diet. Busy schedules can sometimes breed unhealthy eating habits. "For people on the go, it may become habit to go through the fast-food drive-through on the way to work then hit the same spot on the way back," Dr. Mulhearn says. "But each fast food visit has potential negative consequences on your health, especially if it's part of your regular routine." Eat more fruits and vegetables. Limit your intake of fast-food and junk food. Choose water instead of soda.
Take regular breaks. Make a point to dedicate ten or fifteen minutes to yourself in the first and last half of your shift.
Don't smoke. "This goes without saying," Dr. Mulhearn says. "Smoking is the single worst decision a person can make for their personal health."
Exercise. Try to get more daily physical activity—even if you have to start in small doses. Take the stairs instead of the elevator. Don't park so close to the front door.
For additional information about heart disease and risk factors, or to schedule and heart risk evaluation, call Cardiovascular Specialists, an affiliate of Imperial Health, at (337) 478-3813