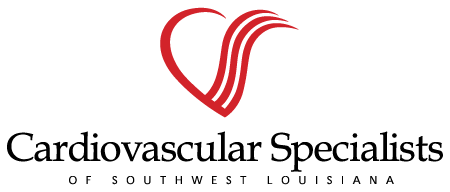 Cardiovascular Specialists of Southwest Louisiana was selected as an investigative site for the PROMISE Trial, a study of the effectiveness of tests to detect coronary artery disease. Michael C. Turner, M.D., is principal investigator and Thomas J. Mulhearn IV, M.D., is co-investigator.
The PROMISE Trial is funded by the National Heart, Lung and Blood Institute and coordinated by Duke University. The study seeks to answer the question as to which noninvasive tests offer the best long-term results for detecting and treating coronary artery disease. The results of this study will determine to a large extent what test cardiologists choose in evaluating a patient for heart disease. It is the largest comparative effectiveness trial of its kind and will enroll 10,000 patients worldwide.
Candidates for this trial are men over 45 and women over 50 who have risk factors for coronary disease, and are considered low to intermediate risk. Subjects are randomized to receive either a routine graded exercise test, myocardial profusion scans, or cardiac CT angiography. These three modalities will be compared for their effectiveness in diagnosing and treating disease.
Participation in the study requires the principal investigator to be trained to a level-three status for cardiac CT or to be board-certified in that specialty. Dr. Michael Turner completed level-three requirements in cardiac CT in 2007, and in 2008 became board-certified in cardiovascular CT. He is a founding member of the Society of Cardiovascular CT and was named a fellow of the Society of Cardiovascular CT in June 2010.
For information on participation in this study, contact your primary care physician or Cardiovascular Specialists at (337) 436-3813.